Dhinasha
Cabins
Standard Cabin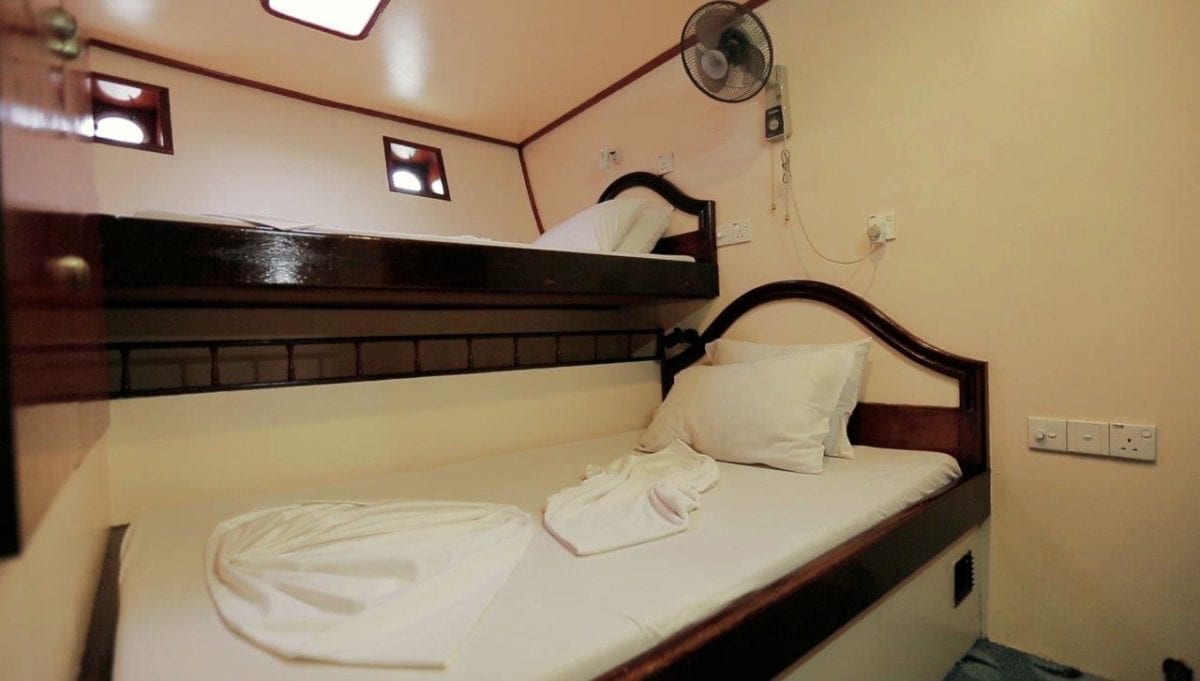 Dhinasha was refurbished 2011 and presents as a new boat with all the modern conveniences to make any charter an enjoyable experience.
The boats is divided into 3 main functional sections; Lower deck where we have 7 guest rooms, staff and engine area (separate entrance), Main deck where indoor and outdoor dining area, kitchen, and lounge area Upper deck is entirely sundeck.
Features:
Air-conditioned
Hot water
Attached toilet
Read More...
Read Less...
Vessel Info
Highlights
Enjoy your Maldives holiday on board our award winning liveaboard, Dhinasha. The boat is a perfect choice for Diving, Surfing, Fishing and Cruising holidays for you and your loved ones. Enjoy a range of activities such as island hoping, fishing, snorkeling, sandbank or deserted island picnics.
Dhinasha is perfect for groups of friends and family looking for private vacation liveaboard in Maldives. We have 7 air-conditioned rooms with attached toilet, spacious common living space and sundeck. Enjoy exquisite meals prepared by our chef. Our friendly crew is there to help you with various activities to make your holiday a memorable one
Description
Surfing cruise charter is the best option to enjoy surfing in the Maldives. Dhinasha liveaboard is the ideal size surfing cruise for a small group of 8-14 people. A typical surfing cruise will travel to South Male, North Male Atoll, Ari Atolls visiting as many surfing sites in the vicinity. Dhinasha will usually anchor close to a resort for the night. The cruiser does not follow a set route, but takes guest preferences into consideration, the cruiser captain and cruiser manager will confirm the best route. Itinerary is dependent on the prevailing weather conditions and seasonal marine migration.
Charter Info
Diving Services
Diving Facilities
Tanks
Weights
Emergency equipment
Life vest
First aid and emergency oxygen
Boat Amenities
Activities
Dhinasha offers a host of activities and water sports including wake-boarding, diving, snorkeling, fishing and much more.
Surfing
The Maldives boasts a number of world class surfing spots including the famous 'Honkeys', 'Sultans' and 'Jailbreaks'. The beauty of surfing these island chains is that there are many spots within a short distance of each other and waves that will accommodate every level of surfing. A surfing cruise onboard Dhinasha allows you to explore a wide range of surf breaks and stay for as little or as long as you wish.
Diving
Dhinasha's dive safari provides divers of all levels the opportunity to explore and experience the world famous dive sites of the Maldives. Our PADI/SSI licensed dive guide will ensure you see the best Maldives has to offer. The dive season runs all year round, but from November to May the conditions are close to perfection due to calm seas and brilliant visibility. Dhinasha is equipped with tanks, weights, emergency equipment, life vests, first aid & emergency oxygen and obviously between dives there is the opportunity to relax on the sundeck, snorkel or swim.
Cruising
The crew familiar with the local waters will navigate you through the beautiful reefs and channels of the Maldives. Awake to the sun rising over the azure ocean, snorkel reefs and discover the beauty of the underwater world of the Maldives, visit deserted islands or the local villages to sample the local way of life, sunbathe on remote sandbanks and by night relax on deck gazing at the millions of stars above you.
Island Hoping to Local Villages or Resorts
Our cruising schedule includes visiting to local villages or resorts, this enables guest to experience all facets of Maldives.
Sand bank Visit
This could be a good experience to witness beauty of Maldives, white sandy beaches, clear blue lagoon, colourful coral reefs
Food & drink
Dining
The chef onboard Dhinasha will prepare a blend of eastern and western cuisines. Meals are served in buffet style and are cooked using only the freshest of local seafood, fruits and vegetables. Some imported meats and produce are also served during the your charter. A full service bar is also available during your charter.
Reviews
Rating Overview
0/5

Overall

0

Value

0

Location

0

Room

0

Service

0

Dining
Ratings are averaged based on 0 reviews.