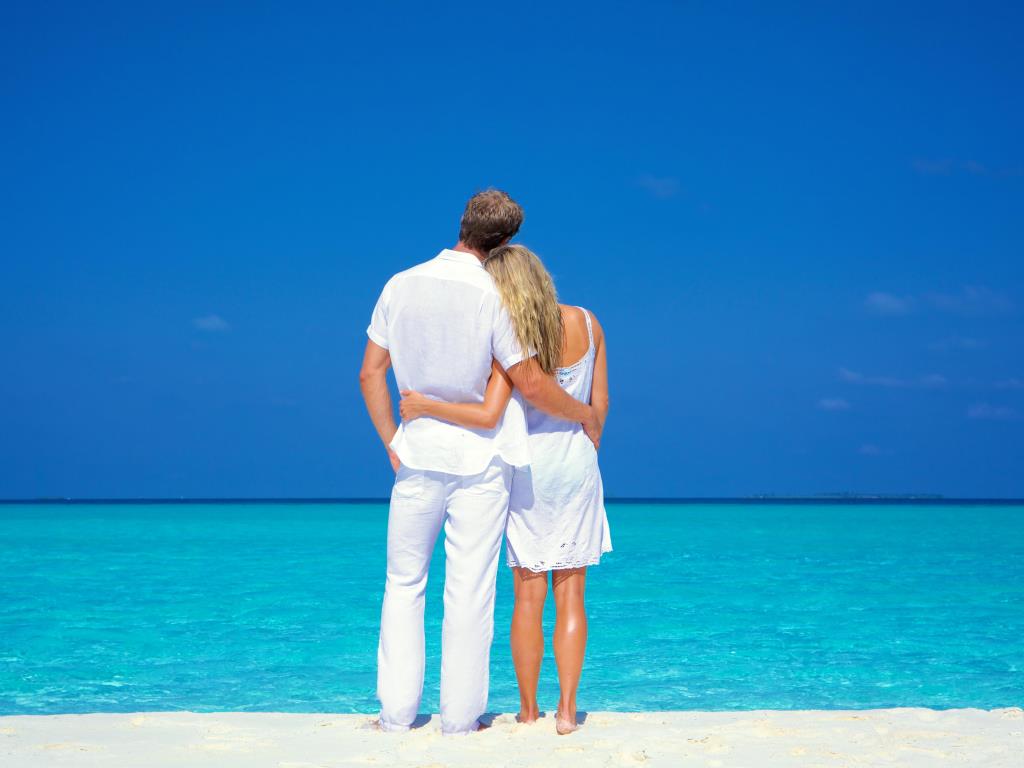 The Maldives is a perfect Honeymoon getaway. White sand. Crystal clear water. Utter tranquility. A romantic paradise. And, here are our top tips to make sure your Maldivian Honeymoon is as amazing as it possible can be.
1. Snorkeling
Snorkeling is one of the best ways to experience the Maldivian reefs and wildlife. Every resort and hotel will offer fins and snorkels, and every inch of shoreline offers gorgeous views from the moment you put your head under. Head out, hand in hand, and experience a new world with your new spouse!
 2. Spa Treatments
Most hotels and resorts have in-house spas that offer traditional local and international treatments and massages. Most are suspended in the ocean, conducted in the open air, and offer utter peace and quiet. A honeymoon in the Maldives isn't complete without a beach massage.
3. Sunset Sailing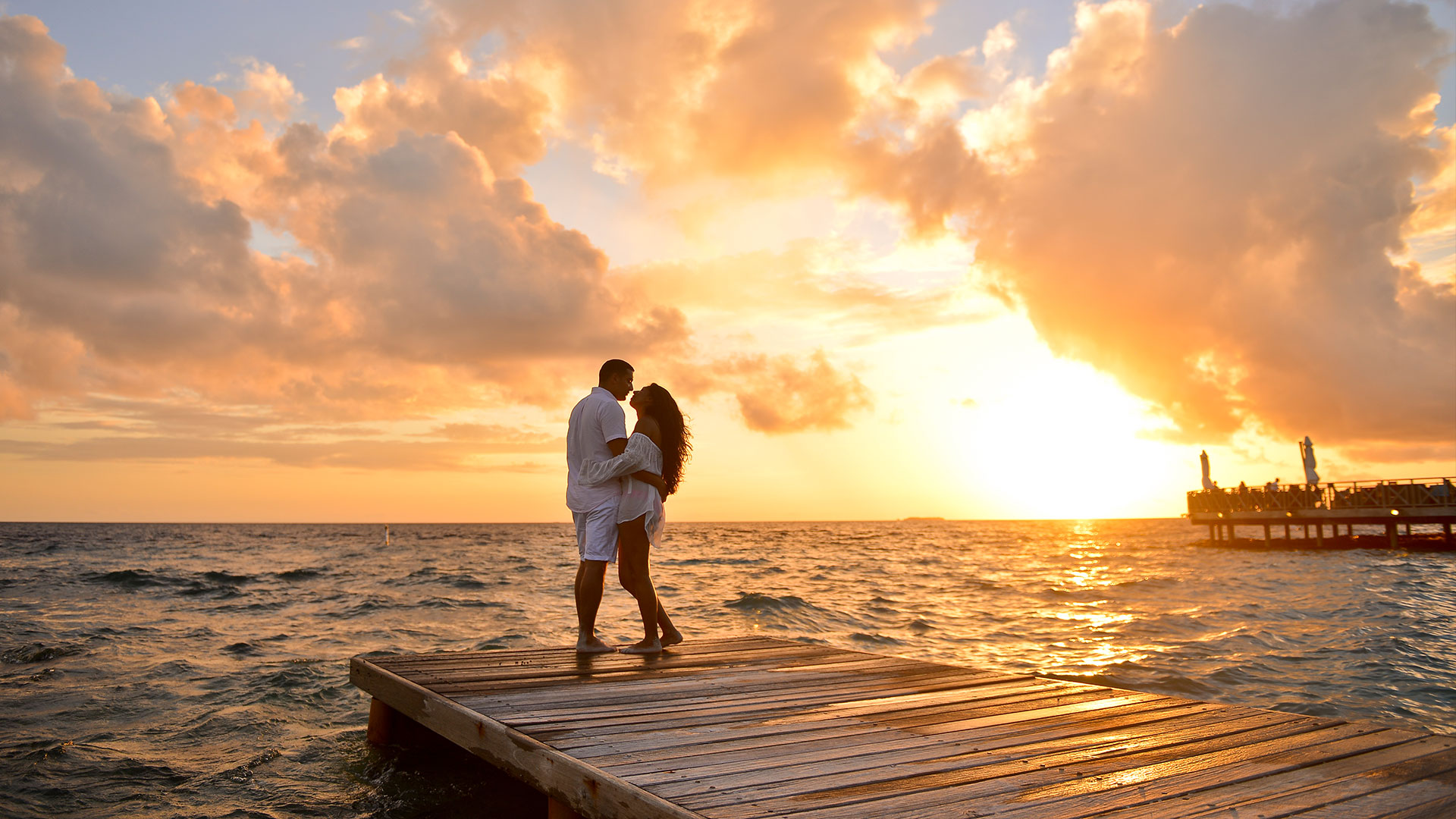 A popular activity is a sunset sail or cruise. Private yachts or boats can be hired that will take you into the ocean for the perfect view of the sunset – complete with champagne and canapes of course.
4. In-Room Dining
With so much to do in the Maldives, it can be easy to forget the luxury of your own room. Well, you'll be glad to know that if you want a night in to get cosy, most hotels and resorts can arrange for a gourmet meal to be set up and served on your private balcony. Simple romance at its best.
5. Explore the Culture
If you want to get out and see the world, Male is a bustling, vibrant town that offers local culture by the boatload. Whether its meeting the locals, experiencing authentic cuisine, or just spending the day languishing in the life of a Maldivian local, Male has it all.
6. Underwater Dining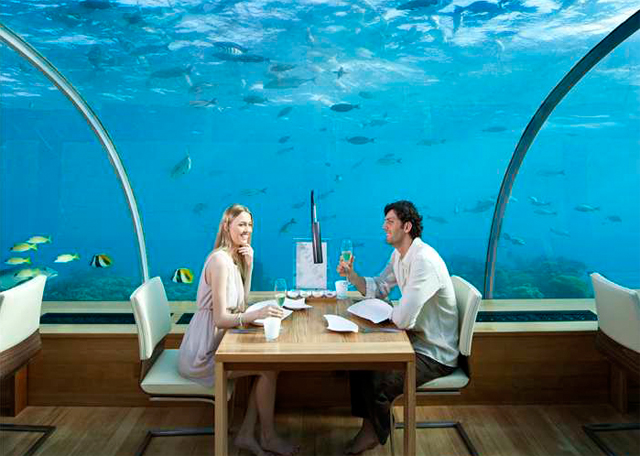 The Ithaa Underwater Aquarium Restaurant is a wonderful experience that lets you sample the best food in the islands, while sitting in a glass-topped underwater restaurant.
7. Submarine Ride
If you want to add a little excitement to your trip, you can book in on one of the submarine tours. The sub will descend to the depths of the ocean and take you around the islands, seeing things that aren't possible while snorkelling or diving. A 30m maximum dive depth is enforced when scuba diving, so a submarine ride is really the only way to see all that the coastal waters have to offer.
8. Historic Tour
The rich history of the Maldives is right on your doorstep, and a day can be spent walking around the National Museum and Friday Mosque – both of which are just bubbling with history and culture.
9. Bioluminescent Beach
If you want to experience something truly magical, then ask your restort about the bioluminescent beach. Taking a midnight walk with stars both above and below is possibly the most surreal and wonderful experience you could have in the Maldives.
10. Beachside Cocktails
This is likely something that you'll find yourself doing a lot, and for perfect reason. Most resorts and hotels have private beaches, and you can spend the whole day languishing under palm trees, sipping drinks, and staring longingly at the love of your life. If that's not heaven, we don't know what is.
All of these experiences are ideal for couples, and you can feel the romance in the air from the moment you set foot on this island paradise. The Maldives is the perfect honeymoon destination, and is the perfect place to celebrate love.