Maldives SurfingTour – 7 Night Full Board Accommodation, Airport Transfer and Unlimited Surfing
THE MALDIVES MOSAIQUE
Package Details
Cruiser Cabins - Lower Deck
$275 pp per night
The 4 Cruiser Cabins are standard double bedrooms and complement the same luxury boutique designs of the suites. The cruiser rooms are located on the lower level and are equipped with beautiful bathrooms with modern amenities. The Cruiser Cabins are equipped with all the modern utilities and facilities offered in the suites such as flat screen TV, bathtub, hot and cold shower.
Features:
No of room: 4
Size: 15 m²
Beds: 1 Double
Max occupancy: 2
Read More...
Read Less...
Cruiser Suites - Lower Deck
$285 pp per night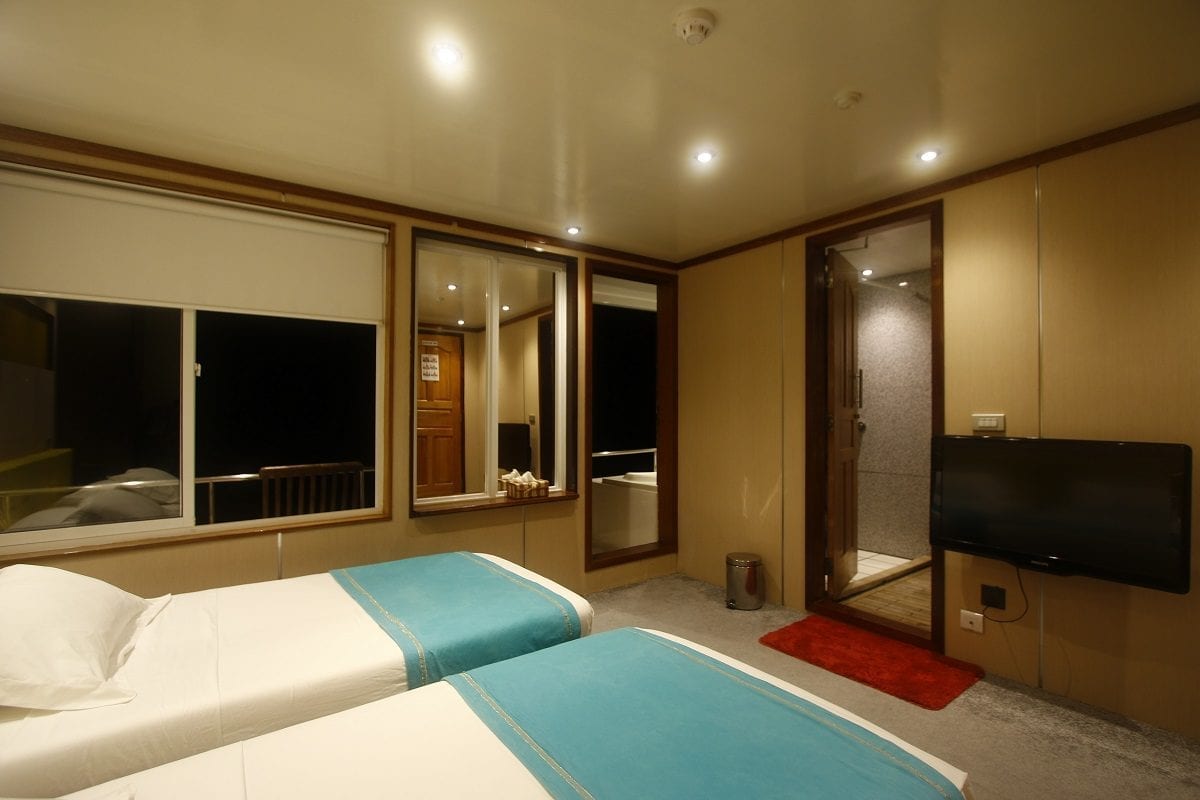 The Cruiser Suites are very spacious and has a standard double bed and a full size day bed, located on the lower level. These suites are equipped with beautiful and large bathrooms with modern amenities, utilities and facilities
Features:
No of rooms: 2
Size: 26 m²
Beds: 1 Double and 1 Single
Max occupancy: 3
Shareable: No
Private bathroom: Yes
Read More...
Read Less...
Non Refundable Rate :

$285
Select
Sea Breeze Balcony Rooms- Upper Deck
$335 pp per night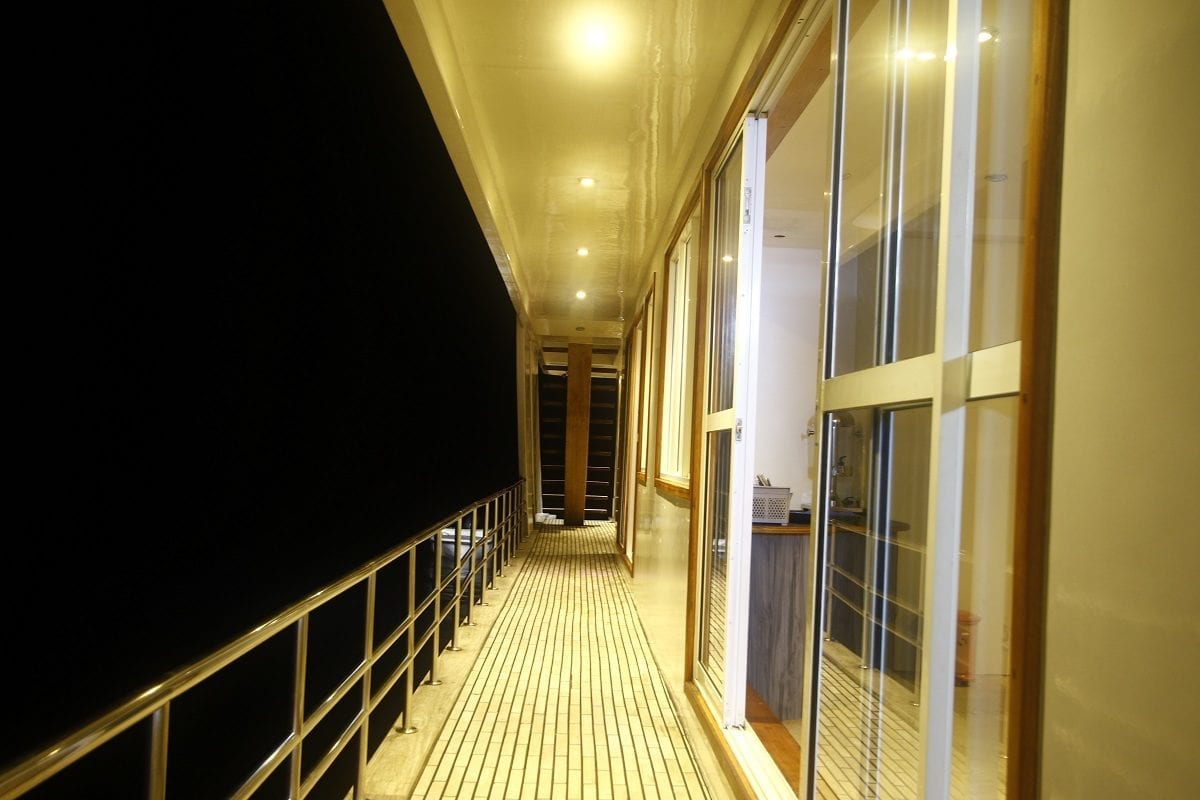 The Sea Breeze Balcony Rooms complement all aspects of a Sky Light Suite except the sky view. The Sea Breeze Balcony Rooms each have a private balcony, beautiful bathroom with modern amenities and an outdoor bath tub overlooking the scenery.
Features:
No of rooms: 05
Size: 24 m²
Beds: 1 King
Max occupancy: 2
Read More...
Read Less...
Non Refundable Rate :

$335
Select
Sky Light Suite - Upper Deck
$455 pp per night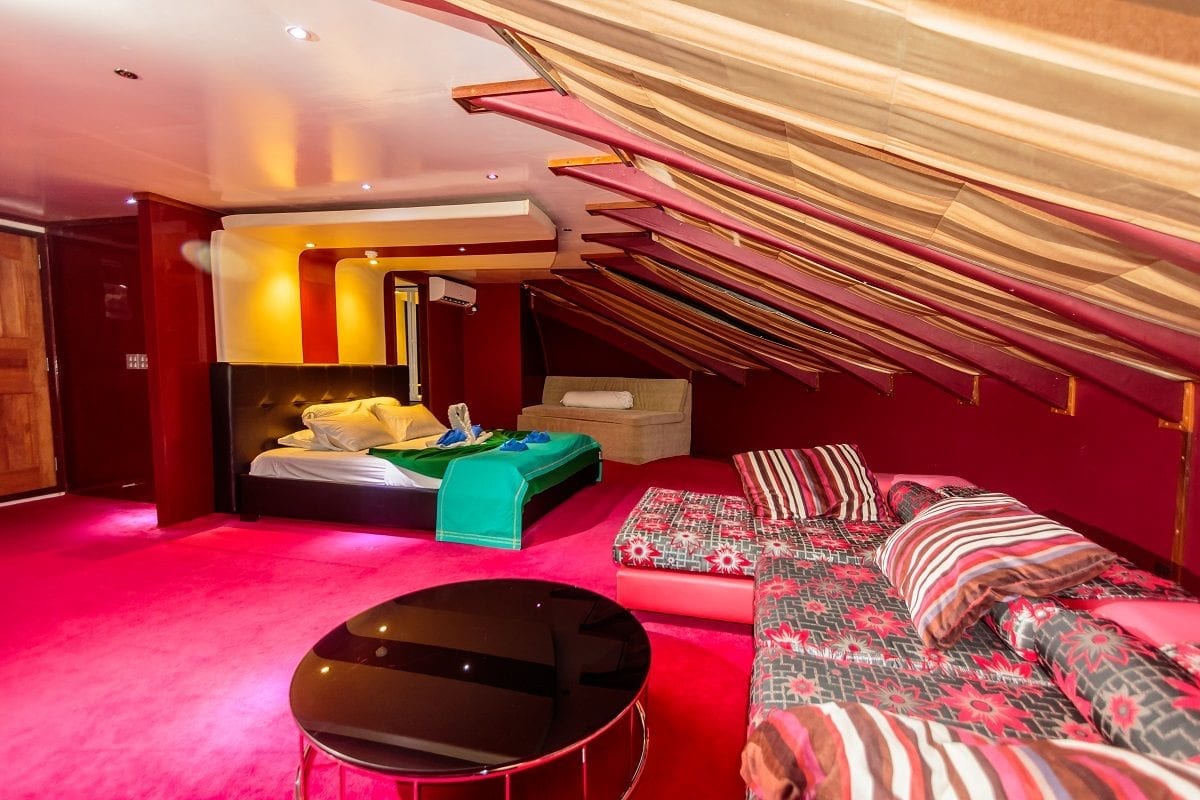 Sky Light Suite with king size double bed, 2 day beds, 42″ LCD TV, private bar and a full sofa set. The suite is located at the front on the 3rd level offering a mesmerizing panoramic 270 degree sky view. The Sky Light Suite has a private balcony, beautiful bathroom with modern amenities, outdoor bathtub and rain shower. Enjoy your private sun lounging on the Suite's balcony overlooking the breath-taking scenery.Suite
Features:
No of rooms: 01
Size: 80 m²
Beds: 1 King
Max occupancy: 2
Read More...
Read Less...
Non Refundable Rate :

$455
Select
Overview
A typical surf cruise will travel to South Male, North Male Atoll, Ari Atolls visiting the many surfing spots in the vicinity. The Maldives Mosaue will usually anchor close to a resort for the night. The cruiser does not follow a set route, but takes guest preferences into consideration, the cruiser captain and cruiser manager will confirm the best route. Itinerary is dependent on the prevailing weather conditions and seasonal marine migration.
Inclusions
What's Included
Return airport transfers
welcome drink on arrival
3 meals per day, unlimited tea and regular coffee and 02 bottles of mineral water
3G WiFi internet with limited downloads
Group night fishing trips
Snorkeling trips
Fuel for yacht
Tender and surfing /fishing boat for cruising of 04 hours per day
Two group beach barbecue dinners/lunch per week
Two water sports guides
Exclusive Bonus
Return airport transfers
FREE wifi throughout the vessel
What's not included:
Wines and alcohol
Spa services (Spa service to be confirmed at time of booking)
Exclusive food requests
Bar services
All onboard expenses are subject to 12% GST and 10% service charge, and Green tax of $6 per person per night.
All onboard expenses are to be settled with the captain with cash or credit card prior to guest disembarkation.
Jet ski – rental rates per day. Half day $300, Full day $500, 7 days package $2500
Dive equipment – rental rates per day. Dive Computer $12, Regulator $10, BCD $8, Mask & Snorkel $6, Fins $6, Wetsuit $6
Terms & Conditions
Terms & Conditions
All Rates are in USD inclusive of prevailing government taxes (TGST and Green Tax) and SC
Rate inclusions Surfing & Fishing in North/South Male' atoll
Rates are quoted in United States Dollar per room per night
Meet & Greet at the airport
Twin share accommodation onboard
Breakfast, lunch and dinner daily
1 bottle of 1.5 liters of water per person per day
Tea/Coffee
Fishing at leisure
Dingy transfer from boat to Surf breaks will be provided, if clients are surfers
Cancellation and refund policy
Written cancellation should be sent by email. Cancellation charges are applicable as below:
28-22 days prior to arrival: 20%
21-15 days prior to arrival: 50%
14-07 days prior to arrival: 20%
Less than 07 days prior to arrival: 100%
No show 100% of the stay
Early departures or cancellations made on arrival will not be refunded.
Read More...
Read Less...
Vessel Info
Features

Highlights
Size: 41M long, 10m wide
Year Buit/Renovated: 2011/2014
Capacity: 25 guests, 15 crew
No of room: 12
Max Speed: 12 knots
Internet: FREE Internet
Rental equipment: Yes
Description
Dotted over the oceans of the world are millions of islands. Among them, the 1190 small coral islands of the Maldives archipelago are globally recognised for its seemingly endless ocean that's abundant with spectacular sea life. Early mariners and seafarers were marvelled by the Maldives. Hence a great yacht would definitely be the best way to experience the Maldives, for which purpose, the Maldive Mosaique was born. The Maldive Mosaique yacht has 12 guest cabins: Room number 1, 2, 3 and 4 are cruiser cabins with double beds located in the lower level
Diving Services
Equipment
Din/Int Adapters
Rental Equipment
Diving Facilities
Battery Charging station
Warm water shower
Spacious dive deck
Separate Zodiac/Dhoni
Fish ID and diving books
Boat Amenities
Activities
Diving
The Maldives are located in the Indian ocean and stretch 900 Kilometers from north to south. They are made up of 1200 tiny, low lying coral lands surrounded by white sand in 26 Atolls. Although the Maldives has known the world over for the stunning beaches and azure waters, its life beneath the surface of the water is becoming ever more respected by the divers. The Islands are some distance from land, which means there is an abundance marine life. The Maldives islands have some excellent coral reefs and the best diving is found inside and outside the atolls lagoons and in the channels. Night dives are a must as the coral reefs become highly active, with predators on the prowl.
The Maldives Scuba Diving runs all year round, but the recommended monsoons for confirmed liveaboards departures are from November to May. April May and June are the hottest months of the year and due to plankton blooming and manta rays and whale sharks. December to March normally enjoys the best visibility.
There are over 100 dive sites recorded in the Maldives during the last two decades, certain sites became famous, some of the main ones are close to resort islands around Male. Each diving site will create its own story along with the beauty of nature.
Surfing In Maldives
The Southern Atolls and its short early (March/April) and late (Oct/Nov) season boasts the beautiful weather of the northwest monsoon season with light winds and clear skies. The fishing is phenomenal and the snorkelling is mind-blowing. The region captures both southwest and southeast swell, so there is a great chance of getting a wave somewhere and the setups are numerous and varied.
The Central Atolls cover a large number of islands, some exposed to southwest swell and others southeast swell. The region boasts some good quality breaks that are suitable to most surfers. Mid season is best. The distance between breaks means you may be doing some miles, but the crowds are low, and the waves great fun. Very scenic islandys sprinkled with upmarket resorts and native villages means you can break up the trip with The Maldive Mosaique with some beers and wines.
The North/South Male area has some real quality setups that are relatively close together. All require southeast swell.  When the surf is on, they are usually all breaking, so there are waves everywhere. It can get a little busy when its small, but the waves are great fun and when its bigger the crowd thins out somewhat. You will get waves here most of the year from April to October.
The secret to getting uncrowded waves in all the regions is to be patient and wait for your opportunity. Most guides will do their best to get you uncrowded waves, but sometimes it is unavoidable. If you arrive somewhere and there is already a boatload out give them an hour or so before you all hit it, they wil appreciate it and probably go in satisfied and let you have the break for your session to yourselves.
The Maldive Mosaique can escort you to get get the best surfing holiday while enjoying onboard activities altogether.
Cruising
Maldives Mosaique offers various cruising option in various parts of the Maldives to explore beauty of the Maldives.
Snorking
What is the point of coming to the Maldives and not seeing the amazing underwater life? If you come to the Maldives you must experience a sandbank and snorkelling excursion! Imagine the privacy and intimacy of sharing a tiny sandbank in the middle of the Indian Ocean with your own group of friends and family. In this tour, you will take a boat to a deserted sandbank. Enjoy crystal clear water while snorkelling or simply soak up the sun on this tiny piece of land in the middle of nowhere.
This tour is highly recommended to all Maldives visitors, young & old, amateur or experienced snorkelers, swimmers or non-swimmers (a life jacket is provided for all non-swimmers guests).
While on board with the Maldive Mosaique guests will get the chance for unlimited snorkelling with snorkelling guides provided by the ship. Guides will escort you to the perfect location for snorkelling which you have never experienced before.
Water Sports
Island Hopping
island hopping is the excursion you have to book if you want to discover the real Maldives!
This excursion will take you to a local inhabited island where you will discover the daily life of the local population; you will learn about the distinct culture of the Maldives, interact with islanders and discover the rich flora and fauna of the island. You will also have the opportunity to experience local food taste with the Islanders.  The Maldive Mosaique will provide this opportunity for free without any charges. Guests will get the opportunity to explore the island life of the Maldives at its best.
FISHING
FISHING Maldives with 90% of its area as sea has a lot of experience in fishing and different ways of fishing. The local people people eat fish in …
Food & drink
THE Maldive Mosaique takes food services up a notch. our experienced chefs demonstrate their culinary talents and vast knowledge of worldwide cuisines. Their creations are simple and delicious focused on high quality but carefully defined tastes unquestionably perfect for onboard services.
Our menu also highlights the best of Maldivian cuisines, allowing international travellers to get a taste of Maldivian culinary style. Maldivian cuisines will allow you to experience a wide range of fish, especially fresh tuna. Cruising on the Maldive Mosaique embodies the best of everything – calm and crystal clear sea, sunshine, exotic beaches invigorating spa experience, excellent services and gourmet food. we want you to experience the food of the Maldive Mosaique – feel its abundance, presentation and palatability.
The second floor of the Maldive Mosaique is the lounge and dining area where you will be served freshly prepared breakfast, lunch and dinner meals. It is not just the dive that highlights your day, but the long leisure meal listening to the water lapping at the hull of the Maldive Mosaique is extra ordinary. we also accommodate guests with special dietary requirements such as vegetarians, diabetic, low-fat, low sodium, low-cholesterol or kosher diets. please specify the dietary restrictions when booking your voyage with us.
Beach Barbeque Dinner
A beach barbeque dinner with music (wither local boduberu or DJ) decorated with sire or disco lights are hosted once every week usually held on the final night of the trip. This is also known as a cocktail night where guests will enjoy alongside the beautiful beach of an island
Wellness
Spa
Feel rejuvenate and refreshed!! The Mosaique Spa is one of the most unique spas's around that you may find. You may either choose to have your treatment wither in the beautiful spa room on board or in the open private deck or even more uniquely have your self-lying down on a beach of a virgin island with soothing sounds of the wave.s breaking to the beach or with the singing of the birds.
Experience the tranquillity and regeneration as thousands of touch receptors awaken, unravel and provide nurturing sensations through your body.
Facilities
Wifi (free)
Lounge area
Air-conditioning
Power socket adapters
Reviews
Rating Overview
0/5

Overall

0

Value

0

Location

0

Room

0

Service

0

Dining
Ratings are averaged based on 0 reviews.