Hanifaru Bay Cruising Package – 7 Night Full Board Accommodation, Airport Transfer and 2 Dives a Day
MY HONORS LEGACY
Package Details
Superior Room Lower Deck Shared
$190 pp per night
$480 pp per night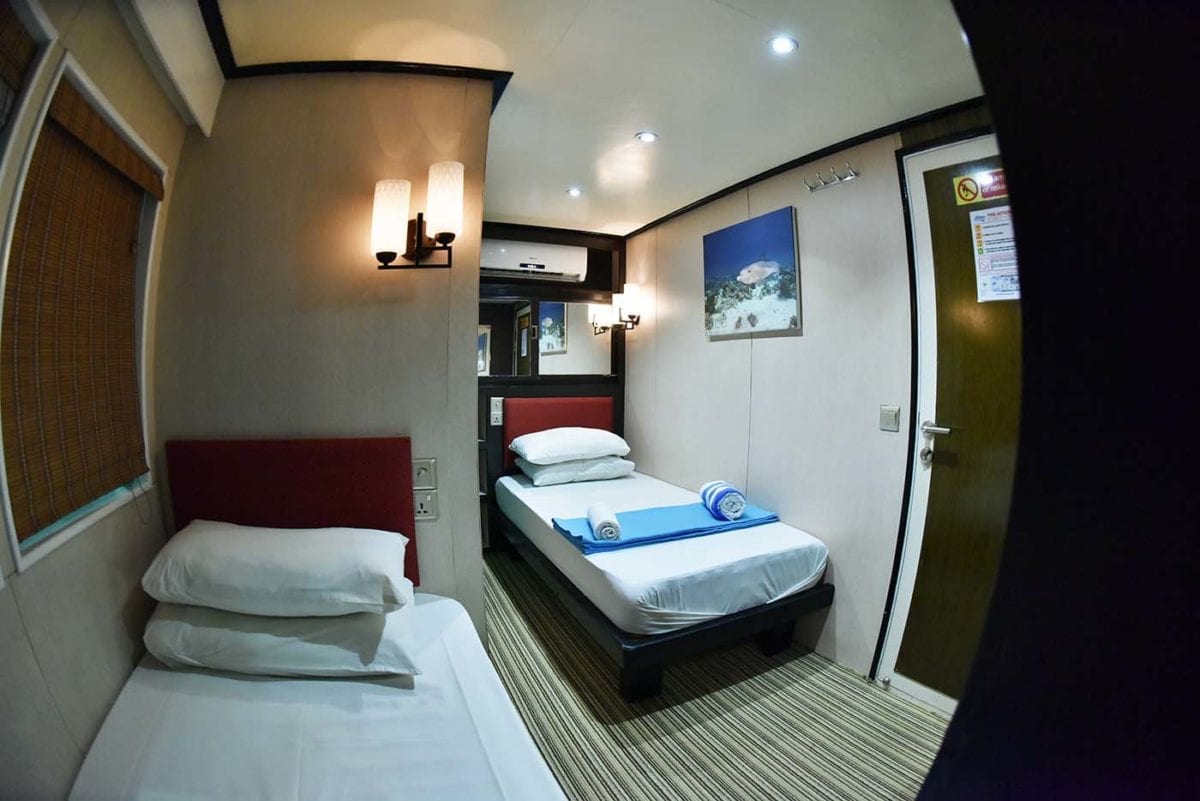 Six of the Superior Cabins are situated on the accommodation deck and one in the main deck. All of these rooms are air-conditioned with modern and comfortable interiors and fittings, each cabin comes complete with en-suite bathrooms, mini bar, and HD TVs. Great place to relax after a long day diving.
Features:
Room Size: 10-12m2
Bed: Double or Twin
Max Occupancy: 2 people
Sharable: Yes
Private bathroom: Yes
Air conditioning: yes
Read More...
Read Less...
Non Refundable Rate : $200 $190 (Save 5%)
Selected
Standard Rate : $250 $238 (Save 5%)
Selected
Non Refundable Rate : $495 $480 (Save 3%)
Select
Standard Rate : $355 $344 (Save 3%)
Selected
Ocean View Suites Upper Deck
$216 pp per night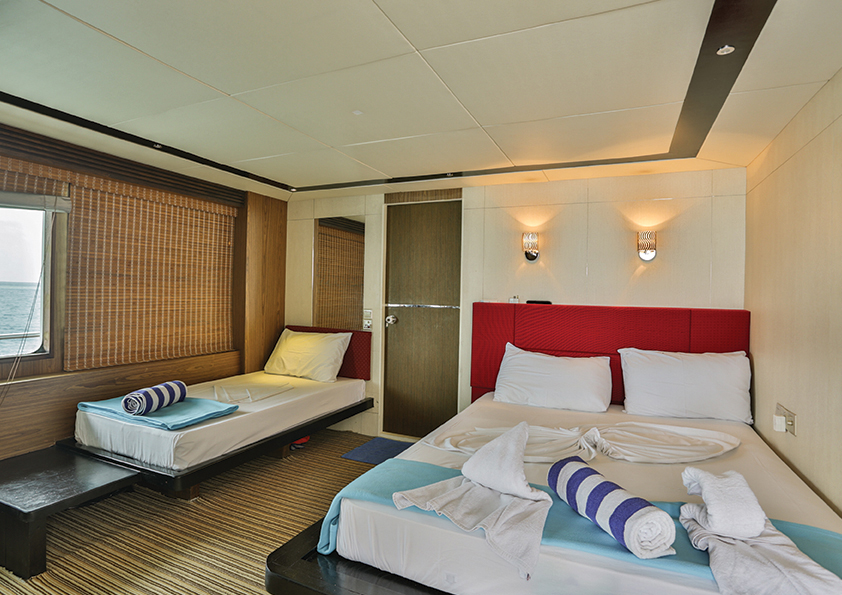 These luxurious cabins feature two Ocean View Suites (20sqm each) offering exquisite views of the beautiful Indian Ocean and a fabulous en-suite with its very own bathtub. In addition, you will find seven inter-changeable Superior Twin or Superior Double cabins (12sqm each). All cabins feature comfortable interiors and fittings, en-suite bathrooms, mini bar, carpeted floor and full HD TVs.
Features:
Room Size: 20m2
Bed: 1 king, 1 single
Max Occupancy: 3 people
Sharable: Yes
Private bathroom: Yes
Air conditioning: yes
Read More...
Read Less...
Non Refundable Rate : $240 $216 (Save 10%)
Select
Standard Rate : $250 $225 (Save 10%)
Select
Overview
Hanifaru Bay is a sanctuary for people who love snorkeling with manta rays and whale sharks. This UNESCO biosphere reserve in the Maldives is legally designated as a Marine Protected Area. There are strict regulations are in place to protect and preserve this amazing wonder.
The reef at Hanifaru Bay is like a funnel that is about 1300 meters, the inner narrow part of the funnel is about 600 meters and that is where whale sharks and mantas are found more common. The whale shark season is from May to December. In this period, planktons gets trapped in the funnel-like reef and concentration of planktons attracts whale sharks and schools of manta rays. At any time there could be over a hundred mantas and several whale sharks feeding off the coral reef. This is the world's largest feeding station known to exist.
At Hanifaru Bay you can do snorkeling, diving is not permitted any more. During your snorkeling you must keep proper distance from whale sharks and manta rays, a radius of 3 meters from head section of whale shark and 4 meters at its tail is minimum distance you must maintain. You should not approach the creature from front or cross its path, stay at sides and swim with whale sharks. It is allowed to take pictures but without flash, you cannot use scooter or motorized devices to tow yourself. Touching, stroking or even getting that close is prohibited and there are trained rangers monitoring your moves.
Prior to implementing these regulations the place was overcrowded with boats and tourists. At some point whale sharks and manta population in Hanifaru Bay went to a drastic drop. The creatures might have been disturbed by human intervention. Hence, the regulations are important to keep this amazing wonder preserved.
Inclusions
Accommodation (based on 2 sharing) including towels & linens, air conditioning and en-suite bathroom
Full board basis (buffet – breakfast, lunch & dinner) and afternoon snack
Complementary drinking water
Tea and coffee (instant) throughout the day (with cookies)
Airport "meet and greet" & Return transfer in Male' from the airport to the vessel
Up to 3 dives per day & 1 night dive a week (weather and itineraries permitting)
Dive guides services (2 dive guides on board)
12lt cylinder and weights
Air fills
BBQ on a desert island
12% GST – In the event of an increase of the GST, the rates will be increased accordingly
Exclusive FREE Bonuses
FREE Return Airport Transfers
Free dive insurance from Diviac
Free 1 year Premium membership for diviac's logbook (Value of USD 15)
What's not included:
International and domestic flights
Alcoholic beverages and soft drinks
Equipment Rentals
Diving Courses (manuals and certifications)
Travel and dive insurance (compulsory)
Crew gratuities
Massages and on board spa treatments
GST taxes applicable to all services sold on board
Possible Fuel surcharge
Green Tax $6 per person per night from 1st Nov 2015
On-board Wi-Fi (USD 25 per person per week)
For Christmas and New Year Festive weeks a supplement of US$50 per person per week shall be added as a surcharge for special dinner
15L Tank USD 15.00 (per day)
Dive courses, see prices in the next section "Good to Know"
Terms & Conditions
Itinerary and number of dives are indicative and subject to weather and conditions – safety will always comes first
All diving passengers must provide their dive certification card and their logbook
Dive computers are recommended for all liveaboard trips (and are mandatory on many boats)
Some liveaboards require you to produce a medical certificate, often dated under two years or under a year, proving you can dive safely. Please enquire if unsure.
Surcharges/local fees (fuel surcharges, distance fees, harbour fees etc. ) may change at very short notice, driven by local conditions, changes to government policy, oil price changes, etc.
Changes are outside Travister's control and you will need to pay any increases. We will endeavor to let you know about any changes as early as possible. A change in these fees does not give you the right to cancel.
Please note that any external links are provided for information purposes only: Travsiter can't be held responsible for the content or accuracy of external sites
Make sure your passport is valid at least six months beyond the date on which you plan to leave the country.
Dive accident insurance is mandatory for our vacations
Travel insurance and trip cancellation insurance are strongly recommended
Check the electrical standards (such as what plugs are used) in your destination country before you travel and bring the appropriate adaptor if required
Make sure you review and meet the global visa and/or immigration requirements for your nationality and the visa policy of the Maldives. Many countries require you to apply for and receive your visa in advance. Some countries may require proof of onward travel, such as a return plane ticket, as part of their entry requirements
Please review the vaccination recommendations/requirements for entry into the Maldives
The maximum depth for diving in the Maldives is 30m
Decompression diving is not allowed in the Maldives
Diving within 24 hours of flying is strictly prohibited
You will need to dive with both a dive computer and a surface marker buoy – both are mandatory and required by law
First dive will be an orientation dive (if you have not dived in the Maldives in the last three months) due to legal requirements
Read More...
Read Less...
Vessel Info
Year Built/Renovated
2005/2015
Features


Highlights
Liveaboard Diving on one of the most elegant vessels in the Maldives
North Male – Ari – Vaavu – South Male
Go north – cruise the Hanifaru Bay area
Explore amazing reefs and soft corals, drift dive kandus, feel the current in thilas
Manta cleaning stations, whale sharks, hammerheads, reef & guitar sharks
Dives from dhoni
Day-time trip to a deserted island
Onboard spa, massages & jacuzzi
Dive courses, rental equipment, nitrox & internet available
Superb bar, karaoke with surround sound and 55″ TV
Description
Modern day super yacht Honors Legacy is your ticket to the breathtaking and diverse marine life only experienced in the exotic Maldives
The Honors Legacy sets the standard in liveaboard luxury. Whether taking day-time trip to a deserted island or feasting your eyes on the large pelagics, this will be an unbeatable dive adventure. Soak in the Jacuzzi between dives or be enchanted by an island BBQ. Enter the exciting world of Maldives channel and atoll diving where you will encounter Mantas, Whalesharks, Sharks and unique marine-life action for the ultimate dive vacation.
Diving Services
Equipment
Tanks With Din Valves Din/Int Adapters
15L Tanks
Nitrox ($)
Rental Equipment ($)
Equipment For Kids
Diving Facilities
Battery Chargin Station
Warm-Water Shower
Fish Id And Diving Books
Spacious Dive Deck
Separate Zodiac/Dhoni
Boat Amenities
Activities
Land Excursions
Snorkeling
Food & drink
Buffet
Alcohol
Vegetarian Food
Wellness
Spa Facility
Hot Tub / Whirlpool
Massage Services
Facilities
Air-Conditioning
Heating
Power Socket Adapters
Wi-Fi ($)
European (2 Pin) Power Sockets
Lounge/Tv Area
Reviews
Rating Overview
0/5

Overall

0

Value

0

Location

0

Room

0

Service

0

Dining
Ratings are averaged based on 0 reviews.